Identification: "Power amplifier for ultra-fastAC/AC conversion"
To insure the security and reliability a complex and wide coverage tests must be carried out during the whole life-cycle of the products in such industries as power production, aviation, electrical vehicles and railways. The power hardware in the loop or HIL simulation is more and more used to reduce testing costs and protect the real hardware from faulty controllers and in faulty condition tests. The electrical power systems such as drives and converters have a very fast dynamic and cannot be emulated using classical HIL equipment. The IRIS and PLUTON projects aims to develop new power hardware in the loop by exploiting new power converter topologies coupled with the Field Programmable Gate Arrays (FPGA) computing capability for drastically decreasing the simulation time steps allowing the real time simulation of the electrical power systems.
Aims:

Development of ultra-fast AC/AC conversion power amplifier for Powerhardware in the loop applications.

Coupling this power amplifier and the IRIS solver.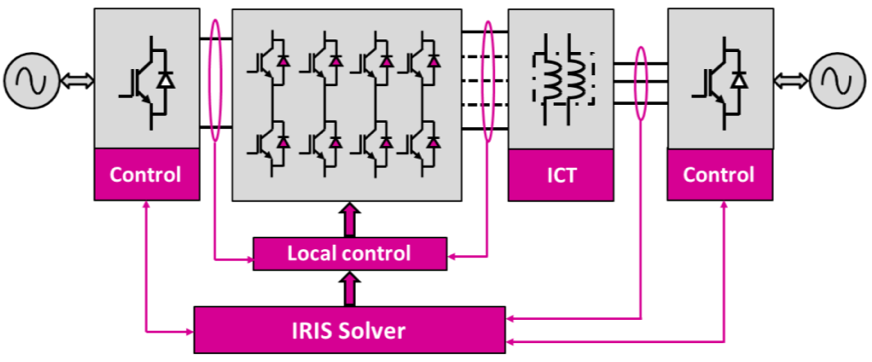 Lasting: since February 2017
Partners:
Partner n ° 1: L2EP, EPMLab
Address: 8, Boulevard Louis XIV – 59000 LILLE (France)
Partner n ° 2: Puissance Plus
Address : 500 avenue du Danemark – Z.I. Albasud – 82000 MONTAUBAN
Contacts :
Manager : Fréderic COLAS – L2EP/Arts et Métiers ParisTech – Phone : 0033.3.20.62.22.29
Frederic.COLAS@ENSAM.eu
Support : Riad KADRI – L2EP/AMVALOR – Phone : 0033.3.20.62.22.29
Riad.KADRI@ENSAM.eu