Context
Due to the increase of the renewable energy sources connected to the grid, the number of power electronic converters in the grid is largely increasing. Currently, nearly all the converters are driven with a grid following control which needs a grid strong enough to be synchronized. As it has already been well documented, increasing too much the number of grid following converters connected to the grid may endanger the overall dynamic stability of the power system to which they are connected. The grid forming control is promoted as a solution by the TSO to mitigate this risk. In the future, it is likely that the converters may switch between both controls depending on the system needs.
The generic idea of this project is to be able to classify the converter in two main classes grid forming/grid following and subclasses, by only using external measurements. This classification is based on the use of the frequency impedance of the converter. However, there are so many variants of control, parameters, operation points that the Artificial Intelligence is a extremely useful tool for this purpose.
A first step of theoretical analysis has already been developed by a Phd student. The idea is to check the simulation results on actual converters.
Description of the work
The experimentation will be based on the setup described on the following figure. The core idea of the experimentation is the use of the Power Hardware in the Loop (PHIL) principle as recalled in the figure below. Thanks to this principle, the converter is virtually connected to the AC grid which is simulated in the real-time simulator.
An excitation system is added to generate current and voltage variation in order to identify the frequency impedance.
A converter developed in the lab will be identified. Since it is an internal development, it is possible to modify the control, grid forming/following, modification of the parameters, operating point. The results will be compared with those obtained in simulation.
---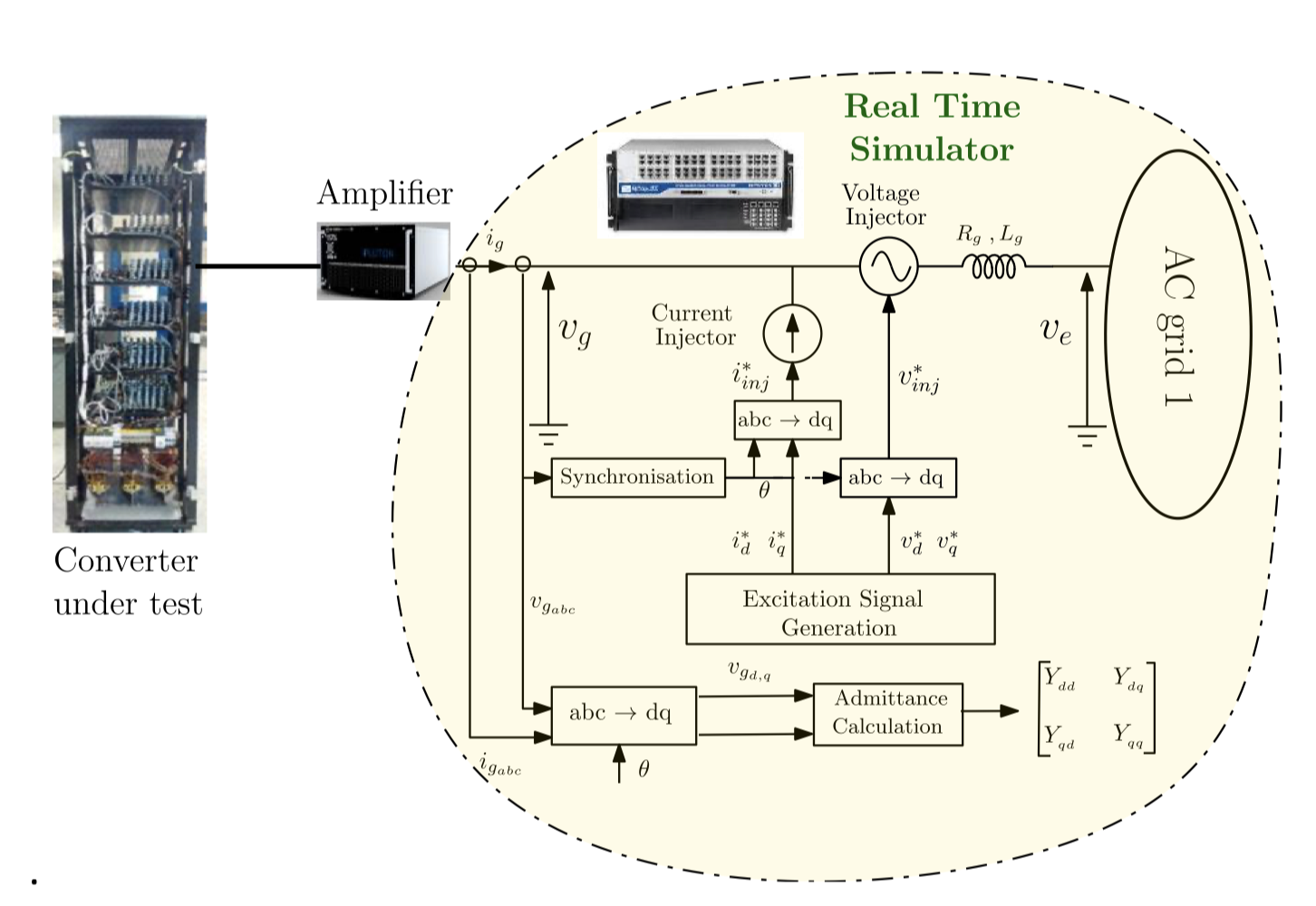 Position Requirements
As an ideal candidate for this position
You have a Phd with a relevant background in power electronic converters with application in power systems,
You have already done some experimentation on power electronic converters
You should have a keen interest to work in a team with various people (Phd, academic staff) studying different aspects of power electronics and power systems.
You have excellent written and oral communication skills in English.
Practical information:
Your application must include:
A motivation letter oriented towards the position and detailing your experience;
A scientific CV with contact details;
List of publications (and patents, if applicable);
Contact details of 2 references.
The research project is managed by professors Xavier Guillaud, Frederic Colas