Identification: "Operation modes and Power Quality assessment of photovoltaic micro-inverters"
Aims :
Study the behavior of photovoltaic micro-inverters (power rating from 250W to 500W)
These kind of inverter is used to interconnect one or two photovoltaic panels.
The objectives of this study is to test micro-inverters from different manufacturers in both the normal and degraded  modes of operation.
This work has been focused on the limits of   normal operation and Power Quality studies.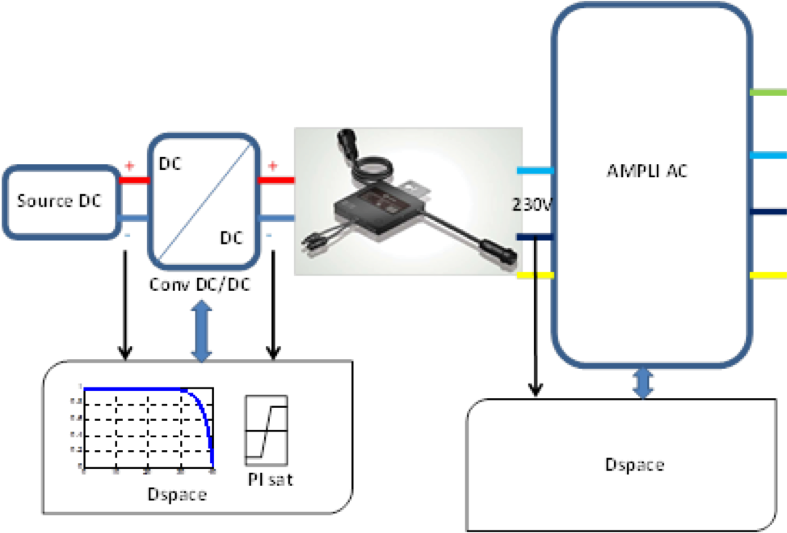 Period: from 2016 to 2017
Sponsors:
Context: Micro-inverter is the youngest solar inverter technology. The main argument in favor of the use of micro-inverters is that their connection is easy and allows to have "plug & play" PV modules. Also, the growth of this market is based on the capacity of low skilled workers to realize PV installations. Moreover, the number of micro-inverter manufacturers is rising since the last three years. Thus, it is difficult to compare the product among themselves.
Main results:
Develop a PV micro-inverter test bench
Results comparison to manufacturer data

power measurements at 10%,20%,30%,50% and 100% of the rated Power
Efficiency and EU efficiency computations
Minimum and maximum AC voltage protection testing
Minimum and maximum frequency protection testing
Islanded mode operation on a RLC load
To check the micro-inverter behavior during power quality studies in the case of harmonic voltages in the AC grid. Power quality measurements like:
Partners:
Partner n ° 1 (Pilot): Laboratoire L2EP in Lille / Arts et Métiers ParisTech – Lille, 8 Boulevard Louis XIV – 59000 LILLE (France)
Partner n ° 2: Laboratoire L2EP in Lille / Ecole centrale de Lille, Cité Scientifique, 59651 Villeneuve-d'Ascq